Emergency Container Home Shelters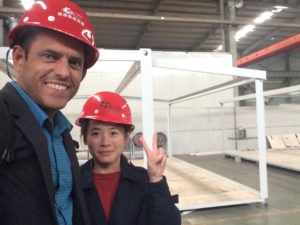 Our Company, Container Emergency Shelter Home LMTD, is located in San Ramon Costa Rica. This is where we modified the majority of our shipping container homes and offices, as well as small orders of Emergency Shelter Homes. The larger orders, 20-150 or 250-1000 units, are manufactured in Shanghai China. We have an established relationship as a supplier for shelter homes. The CEO of ContainerHomes.Net James Lee has been to China and inspected all of the manufacturing plants and walk through and meet the builders and managers behind the scenes. We will get these Emergency Shelter Homes to the clients final destination. On large orders, we will send a trained staff to facilitate the installation process.

Click Below for more information:
Our Units will include gravity water filters: 


These units do not require any electricity and can be used Immediately.
As we are still witnessing today in Puerto Rico, there are millions of 
people still without healthy drinking water. 
These units can also be purchased in bulk.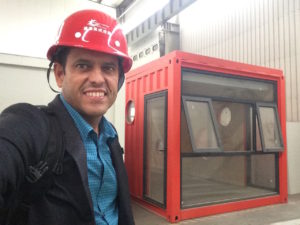 Recovery after any disaster situation starts with feeling safe and comfortable as those effected start to rebuild for themselves. At Containerhomes.net we focus intently on building a home that is both functional and comfortable to be in. In any disaster, removing people from harms way is always priority one, but not at the cost of efficient and effective living. We create shelters that meet the demands for the space and clients needs. We can design sleeping quarters that have as many as 3 vertical bunks per bed space or just one giving the client multiple options to fit their needs. We also know that all new tenants will have belongings, keepsakes, and memories that are essential for their comfort and will need to be considered in each space.
To the right we have the specifications of a Reefer shipping container. Due to the strength and integrity of the corner support posts, these units can be stacked as high as 3 units vertically.
These homes can be used in the beginning as emergency shelters and then converted into homes, schools, hospitals and or offices in the future.
These containers can also be stacked upon each other to lessen their footprint and adapt to highly dance living areas.
Our shelter homes get shipped all over the world.  Each home is fully insulated and all the walls and floors are closely inspected and refinished to provide a comfortable feel for the home as well as protecting it from the outside elements.
Donate a shipping container home for the people of
Haiti, Nepal and other countries hit by catastrophe.
Save
Save
Save
SaveSave
SaveSave
SaveSave
SaveSave
SaveSave
SaveSave
SaveSave
SaveSave
SaveSave
SaveSave
SaveSave
SaveSave
SaveSave
SaveSave
SaveSave
SaveSave
SaveSave
SaveSave
SaveSave
SaveSave
SaveSave
SaveSave
SaveSave
SaveSave