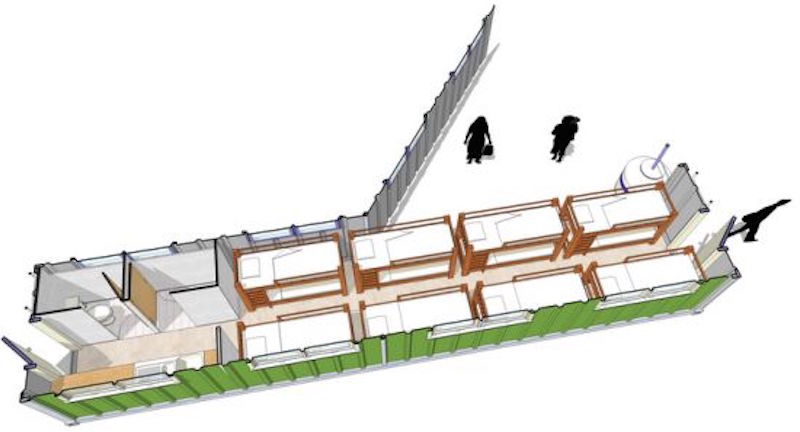 Emergency Container Home Shelters
Container Homes Built in Costa Rica.
 Click Below for more information:
International Transportation on Ocean Liners
























At Containerhomes.net we repurpose Emergency Shelter Homes from shipping containers and Reefer freight containers. 
These containers are transformed in to temporary housing shelters that can accommodate 15  to 25 people and are 
fully equipped with the following:
1. Electricity, water and septic connections.
2. Small kitchenette.
3. Bathroom and shower.
4. Bunk beds for 18 people.

 These can be modified to include Heating and air conditioning layouts as well.


Our shelter homes measure 40 feet long by 8 feet wide and stand 9'6″  tall. Each unit is fully insulated and includes windows and access doors at each end of the unit.
Our customization process starts with a bulk purchase of containers that then get shipped to our refurbishing workshop in San Ramon, Costa Rica where the magic happens as we transform these metal freight containers into comfortable shelter homes with electricity, windows, doors, new paint and decor, and a functional bathroom and kitchen.
Our shelter homes get shipped all over the world and we assure that each unit is equipped to meet regional weather specifications. Each home is fully insulated and all the walls and floors are closely inspected and refinished to provide a comfortable feel for the home as well as protecting it from the outside elements.
Recovery after any disaster situation starts with feeling safe and comfortable as those effected start to rebuild for themselves. At Containerhomes.net we focus intently on building a home that is both functional and comfortable to be in. In any disaster, removing people from harms way is always priority one, but not at the cost of efficient and effective living. We create shelters that meet the demands for the space and clients needs. We can design sleeping quarters that have as many as 3 vertical bunks per bed space or just one giving the client multiple options to fit their needs. We also know that all new tenants will have belongings, keepsakes, and memories that are essential for their comfort and will need to be considered in each space.
To the right we have the specifications of a Reefer shipping container. Due to the strength and integrity of the corner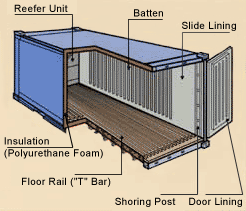 support posts, these units can be stacked as high as 9 units vertically.
When considering building an Emergency shelter home in an area that is prone to hurricanes and earthquakes, there are two factors to consider in regards to the construction and design of the emergency shelter home: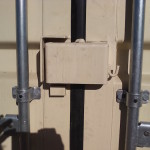 The first is the susceptibility to water damage, generally caused by flooding, and the second is the resistance of the construction materials to wind damage.  Because most coastal countries are prone to hurricanes and tropical storms the safety of a steel construction home becomes a high priority.
  Most damages incurred, during and immediately after a hurricane, are caused by flooding and water incursion through damaged structures.Shipping container homes reduce the chances of water damage in several ways.  Most importantly, the steel wall structures are inherently water tight so that rains, driven by hurricane force winds, are unlikely to breach the structure. These ISO shipping containers are both hurricane and earth quake proof, based on their design, and their seaworthiness.
These ISO shipping containers are both hurricane and earth quake proof, based on their design, and their seaworthiness. They can withstand 100mph winds unanchored and 145 winds anchored. These homes can be used now as emergency shelter and then converted into homes and offices later. These containers can also be stacked upon each other.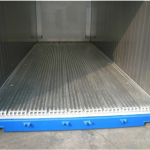 These homes can be used in the beginning as emergency shelters and then converted into homes, schools, hospitals and or offices in the future.
These containers can also be stacked upon each other to lessen their footprint and adapt to highly dance living areas.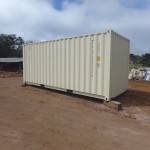 So the installation of the homes regarding elevation and land positioning is very important. Emergency shelter shipping container homes are all placed on foundations that will meet, and generally exceed, the levels of protection needed in the homes foundation.  Additionally, the mostly steel construction will not be prone to cracking, or fracturing, as would a concrete structure.  This leads to longer life and lower maintenance for your home.
Donate a shipping container home for the people of
Haiti, Nepal and other countries hit by catastrophe.
One home can provide shelter for 12 to 20 people.
Save
Save
Save