Tiny Homes with Shipping Containers in Costa Rica
Air B&B Your Shipping Container in Costa Rica?
There is a lot of hype and excitement about "Airbnb" and "Homestay" as a new source of income for many people around the globe and especially in Costa Rica for many Expats.
Airbnb started in San Francisco, California in 2008 and has become a global online homestay network of short-term lodging in residential housing. In 2013, Airbnb had served over 9 million guests since its creation. The homeowner sets the rental price and give up to a 12% fee for the use of the Airbnb service. Airbnb is available in over 190 countries and have over 2 million listings.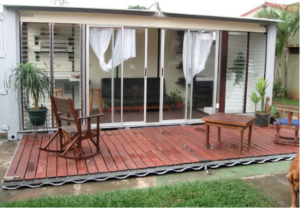 In Costa Rica, Airbnb has over 300 listings. Most are reasonably priced beach homes. There are tree houses, tiny homes, cabanas and even a pipe house hostel in Playa Grande. However, there are no shipping container homes listed on Airbnb….yet!
In the past 18 months my company ContainerHomes.com, has received a large amount of requests for "tiny-homes" "portable-homes", specifically for use as a rental home to generate income. Many Costa Ricans are creating cash flow by listing tiny homes on Airbnb.
ContainerHomes.com has helped construct beach cabanas, eco-hotels and small condo developments throughout Costa Rica. Many of our clients like the idea of a portable cash flow machine that is self-promoted by Airbnb and the tiny-house movement.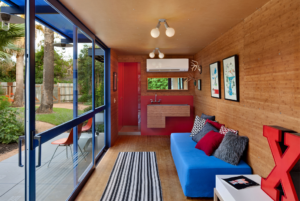 Tiny container homes have both pros and cons. One of the benefits is the permit processing. Most tiny homes are typically under 200 sq/ft and put on blocks or wheels to avoid municipal bylaws such as taxes and permits. Currently in Costa Rica, a small 20ft container home may not require any construction permits, due to its size and portability. In some areas in Costa Rica, regardless of the size of the construction, you need to have all of the required building permits and signatures.
Another reason people like the idea of a container home is that it is portable. They can be moved around on their land, as their needs change.
They can add onto it, putting another container next to it or on top. And, container homes retain a high value for resale, and are often easy to find buyers, if they decide to exit the rental home business.
Air B&B Your $12,000 Tiny Shipping Container home in Costa Rica. Charge $500-800 per month in rental fees and recoup your investment in just a few years.
The author, James Lee has lived in San Ramon, Costa Rica for 17 years.
He is a Chiropractor and Container Home Builder. He has built dozens of container home projects in the past 11 years. See more at ContainerHomes.net.
SaveSave
SaveSave