Building the container home foundation
Before you build your foundation,
do a layout of the area surrounding your new home. The septic tank will need to be as close to the bathroom as possible and accessible for future maintenance. The electricity will be entering the container from a high point, usually in the kitchen close to the internal fuse box. The water will have one entry point, usually from your water tank on the roof, which would be below your rainwater catchment system.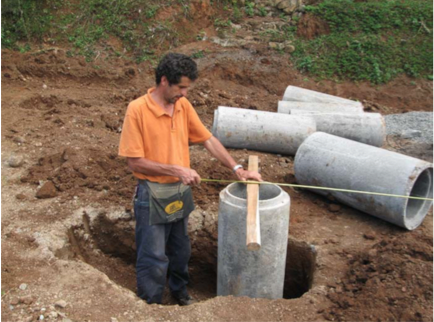 These are the things we do regarding the foundation here in Costa Rica.
1. Know the position of the septic, electricity and water connections.
2. Decide on cement canisters, wood beams, metal jack stands or used tires.
3. Weight requirements and structural engineering. This means an extra canister of cement per large cut out.
On most properties you will need a layer of crushed rock and/or sand. The rock is to cover the area so you are not dealing with mud and lot erosion, especially during the rainy season. All containers must be placed on some type of platform above the ground if they will be in one place for a long period of time. This is to prevent any long-term ground contact that would cause erosion. Elevating the container home several feet is important in order to connect the septic and water pipes, and for future maintenance. This crawl space is very important and can also be used as a storage space for many different yard items, or the perfect doghouse space. The space between the shipping container and the ground should be planned out before you begin construction.
In some cases we just placed the containers on 4-6 used tires when the client is planning to move the unit in the future. However, most people prefer a more solid foundation.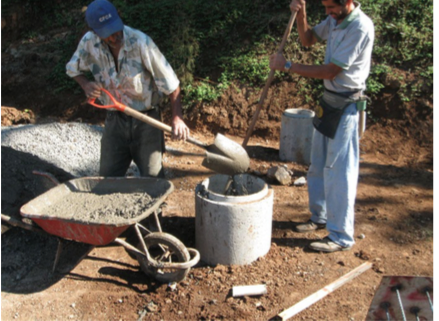 This space will also prevent too much moisture from entering the container when closed for long period of times. In fact, if you plan to leave your container for closed for an extended period you will want to do the following things:
Elevatedthecontainer.Getitofftheground.
Install some internal exhaust fan to pull out the moisture. This fan could be hooked up to a timer.
Use moisture absorbent crystals. They sell this at Home Depot. People use it in their house or boat. The crystals absorb the water in the air and last up to 45 days and cost around $5.