How To Install A Bathroom In A Shipping Container Home in Costa Rica.
The design and the construction of a Bathroom in a shipping container home in Costa Rica.
The design of the bathroom in your shipping container home will depend on your personal tastes. The size and the location of the sink, toilet and shower all need to be considered, especially when designing a house with constrained space. We prefer to place our bathrooms at the end of the container in order to take advantage of the shipping container corner walls as this reduces the number of interior walls that need to be constructed, thereby reducing cost.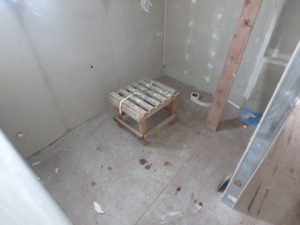 We place the shower in the corner and in some cases do not frame out any of the internal walls, so the shower water is actually hitting the steel walls. This has the advantage of reducing the amount of ceramic tile required. We actually prefer, however, constructing an interior wall in the bathroom, especially the shower, and then install the ceramic tile. However, some people are ok with the container wall bathroom model, especially if they are trying to save on the cost of the unit.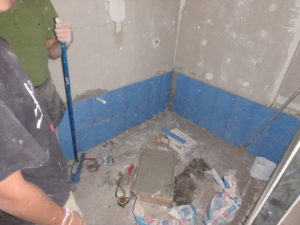 All of our bathrooms are tiled, usually the floor only, with 6-8 inches from the floor up the wall. In some bathrooms we tiled the entire bathroom except the ceiling. My suggestion is to tile the entire bathroom, floors and walls. We use a special paste required for the tile to stick to the wallboard.
The sinks that we install in our shipping containers sit above our steel safe. This was created for security reasons and was designed to be hidden, and large enough for a few laptops.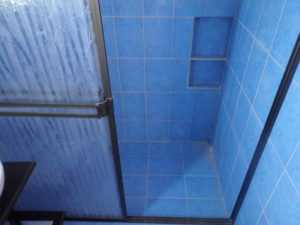 The placement of the toilet and sink is based on the exiting water and waste systems. We prefer to keep most of our exit tubing on one side of the container home and low to the ground.
The toilet will require either a hole in the bottom of the container, exiting to your septic tank or out the side of the container if you raise the toilet and place it on a platform. Elevating the toilet is a good option if you will be dragging around and or moving the unit frequently.
It is not uncommon to move the container several times after it arrives at the construction site. For maintenance reasons, we always prefer to have a crawl space under the home. We install the homes at least 3 ft off the ground, sometimes higher.